Case Studies
I regularly photograph and video horses in order to document their progress. Photos and videos are also a wonderful educational tool.
Founder rehab - the first month
Buttercup, a miniature mare, was rescued by Randolph County Animal Control (Asheboro, NC). She was emaciated, with extremely neglected hooves, which caused what I believe to be a mechanical founder. I worked closely with Dr. Becky Scarlett of Scarlett Mobile Large Animal Hospital, guided by radiographs, to rebalance her feet the best I could. Remarkably, Buttercup is sound only a month after her first trim. Shown below are her before and after radiographs, and an example of the condition her feet were in when we started work. The main thing to notice in the radiographs below is that her coffin bone had remodeled to match the shape of her grossly overgrown hoof wall.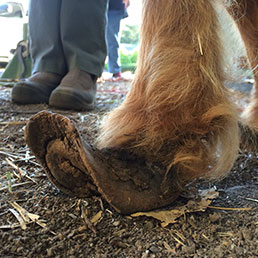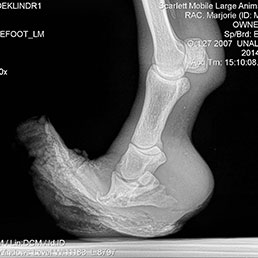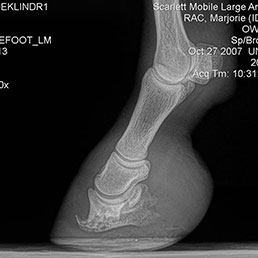 Abscess Healing Process Over 5 Weeks
A huge sub-solar abscess erupted from the heel of this quarter horse (first photo). 5 weeks later, a beautiful new sole emerged (second and third photos).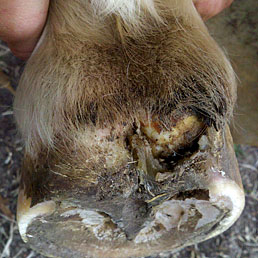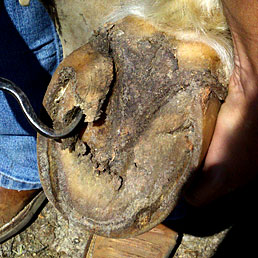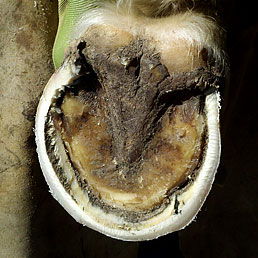 Neglected Donkey Feet
Long-term neglect, but immediate relief after a decent trim!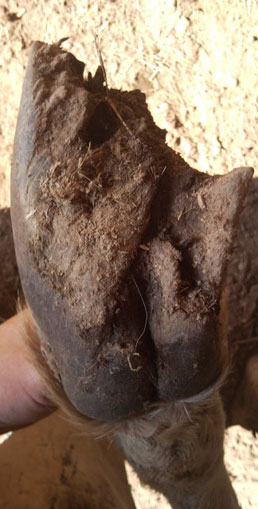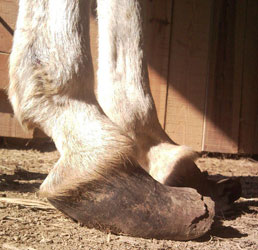 After the trim: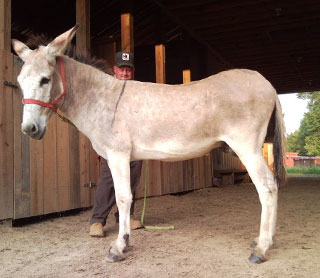 The immediate results of a balanced trim...
Note changes in posture and facial expression. These two photos were taken on the same day, immediately before and after trimming. A balanced trim allowed this horse to comfortably stand "square". Before the trim, the horse would not hold the "square" position and would revert to the stance shown in the first photo.

Founder rehab - sinker
These are radiographs of Megan, a saddlebred horse that was overweight and foundered. The x-rays on the left are from July 8, 2010 and the x-rays on the right are from September 27, 2010. Megan was kept comfortable in boots and pads and a sandy turnout area, and as the excess weight was taken off and she was trimmed correctly, her sole depth increased dramatically in less than 3 months! Update: Megan is sound and back to trail riding - something her owner never expected to be able to do with her again.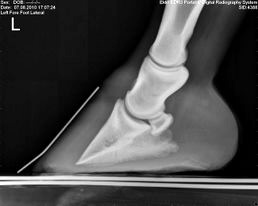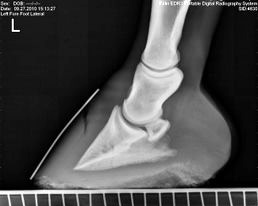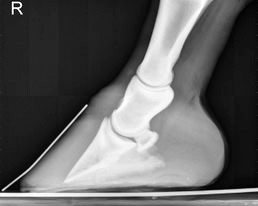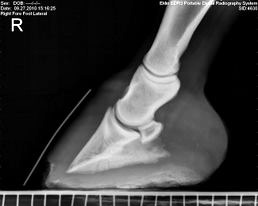 Founder rehab
Here is an example of treating a foundered gypsy vanner horse with correct trimming before major remodeling of the hoof capsule and coffin bone occur. As a result, the recovery time is much faster!
Severe founder rehab
The following is documentation of a morgan mare who had been through several farriers with only poor results. The attending veterinarian recommended euthanasia. There was a lot of necrotic material and degradation in her hooves that needed to grow out, so her rehab took almost a year. However, today she is SOUND and HAPPY! Note: the start dates in the video below should be 2008, not 2009.
These are radiographs from Sunshine, the horse shown in the video above. The x-ray on the left is from November, 2008 and the x-ray on the right is from April 2009 (5 months later). Note the improvement in angles of the bones and joints, as well as the difference in sole thickness. Lowering the heel and backing up the toe reposition the inner structures so that healthy growth is possible. LOTS of movement (hand-walking) plays an important role in hoof growth as well as the horse's comfort. The attending veterinarian had never seen a horse this badly foundered recover, much less to 100% soundness.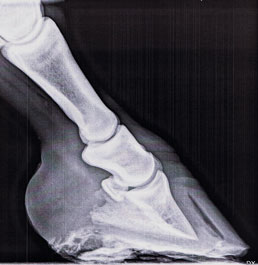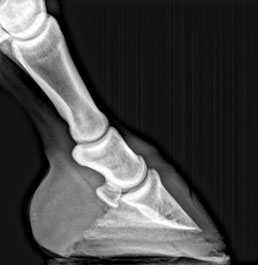 "Navicular" rehab
The next two sets of photos are before the first trim and after the second trim (LF hoof). In just two trims, the relaxation of the hoof capsule and soft tissue is apparent. This horse had severely contracted heels and thrush in addition to the imbalances apparent in this view.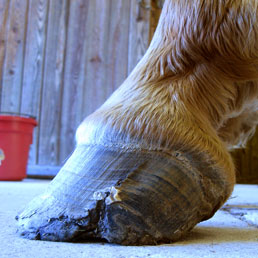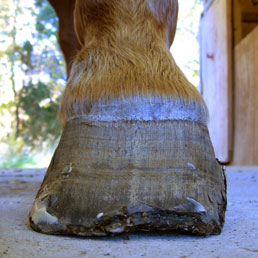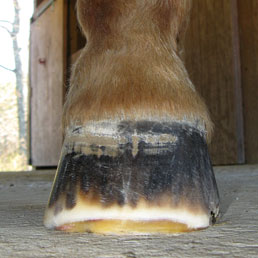 Long toe/low heel correction
Before first trim and after trim at 5 months. Note the relaxation of the hoof capsule and soft tissues around it. The conformation of this particular horse is base narrow and toed-out, causing the breakover to occur on the medial toe. A 5-week trimming schedule and touch-ups by the owner between trims have helped achieve much healthier form and growth of the hoof capsules. This horse was also shod with Hoof-It composite horseshoes for a period of 3 trimming cycles, which helped build sole thickness and provided support and comfort in the meantime.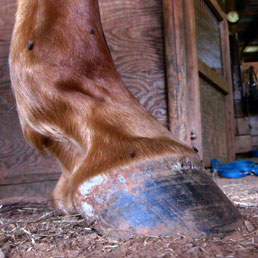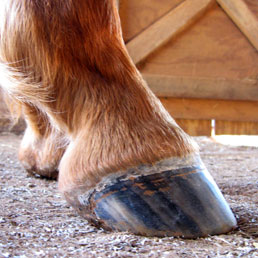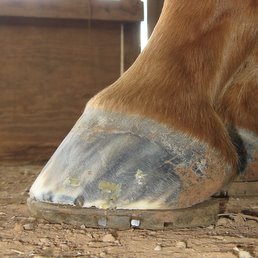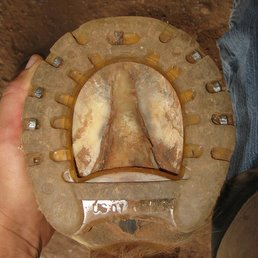 Long toe/low heel correction: first trim
Although no x-rays are available, I would expect to see a slightly negative-plane coffin bone in this hoof. Keeping the toes and heels back, as well as a regular trimming schedule, would encourage strengthening of the atrophied structures in the heel (frog, digital cushion, and lateral cartilages) as well as straighter, more supportive heel and bar growth.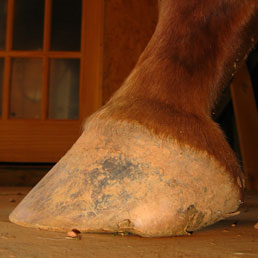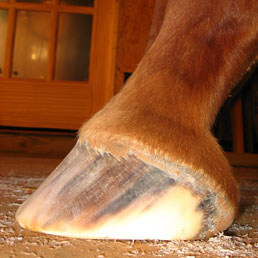 Medial-lateral imbalance
Correcting imbalance in the right hind due to an injury that caused the horse to weight the hoof incorrectly (which created the unbalanced growth). This is only what can be achieved in one trim. The horse was much more comfortable following the adjustment.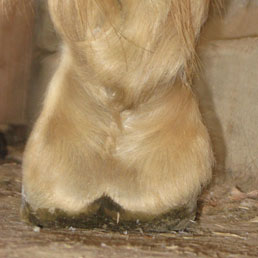 Founder with rotation (before first trim, and after 6 months)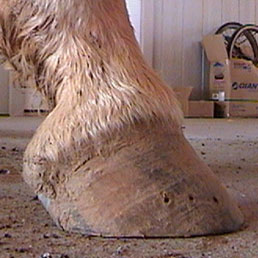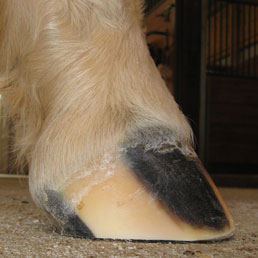 Happy Hoof Pads
Happy Hoof Pads are an extremely helpful tool for all kinds of rehab. They provide a customized level of pain relief and comfort that cannot be achieved with pour-in pads or other "generic" hoof pads.
Additional case studies can be viewed on my blog.
Please contact me with any questions and I'll be happy to help you in any way I can. Email consultations are also available.
Join me for additional case studies and discussion on Facebook at Nature's Path Hoof Care.