Recommended Products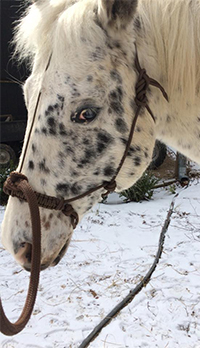 EquiNox Rope Cavesson
Free First Class shipping for a limited time! Available in average horse size currently. More options to come!
I'm very excited to launch a new training tool that will help develop straightness throughout the body with your groundwork. I've been using the EquiNox Rope Cavesson on many different types of horses (it will also work with mules, donkeys, and gaited horses) with great success.
I am working with several respected trainers to take it to its full potential. The best way to describe how the EquiNox Rope Cavesson works is that it helps encourage the horse to keep his ears level through a bend, which is achieved through a connection on the top, rather than under the chin. This allows the spine to remain flexible and straight, will help prevent poor posture throughout the body and bad habits developed early in training (that can be a challenge to correct later on in life). The basis for this tool is in classical dressage and correct biomechanics, and can be used effectively in rehabilitative groundwork. EquiNox Rope Cavesson Facebook Page
Products for Insulin-Resistant/Metabolic Equines
Golden Paste Recipe
Great for us and our horses! Anti-inflammatory and anti-cancer benefits, among others. Click any of the ingredients for a link to purchase from Amazon.
1 cup turmeric
1-2 cups filtered water
1-2 tsp ginger (to taste)
1/4 cup ceylon cinnamon
1/4 cup ground peppercorns (grind in coffee grinder)
1/4 cup coconut oil
Cook water and turmeric at very low heat (do not boil) for about 10 minutes. Add water as necessary to keep a smooth paste. Remove from heat, add other ingredients. Store in glass container for up to 4 weeks. Add to protein shakes, coffee, hot chocolate, tea, or take by the spoonful, starting at 1/4 tsp 3x/day, increasing until results are seen (back off if gastrointestinal upset occurs).
Essential Oils
Click here to shop now. Some of my favorite essential oils for use with horses* include:
*Do not apply an oil if a horse shows an aversion to it.
Please contact me with any questions and I'll be happy to help you in any way I can. Email consultations are also available.
Join me for additional case studies and discussion on Facebook at Nature's Path Hoof Care.